October 17th, 2014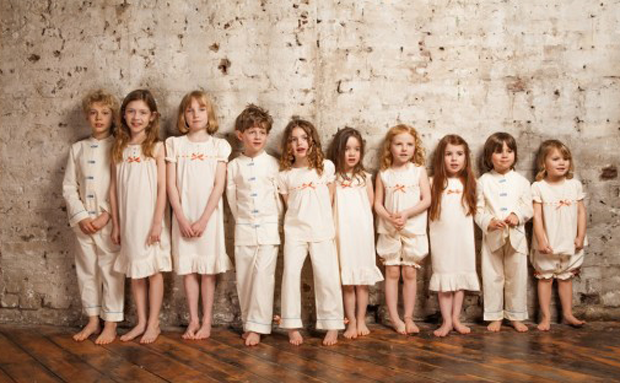 Atticus & Gilda has some of the most beautiful nightwear for kids I've ever seen! The sweet, retro quality of these outfits is just so adorable – especially love those touches like the bloomers and delicate little bows. This classical style of nightwear is what my girls go nuts over!
This label is very interesting as it's the brainchild of  Lucy Gaiger and Conchita-Maria Scott. Both have fascinating careers alongside this labor of love in theatre, film and fashion, dressing stars such as Nicole Kidman, Helen Mirren and the cast of Mamma Mia just to mention a few! And all the trimmings in this nightwear were picked up along their theatrical travels so there's a little bit of history in each garment.
Some of the pieces for the boys can be worn during the day. Scroll down!
And they are also producing luxury accessories like these absolutely gorgeous capes. Check out these other capes with exquisite embroidery and appliqué! Also, they have such sweet cushions and are growing the range all the time.